Get Paid For Sharing Your Knowledge
I will show you the exact way I've been able to get "whale" clients to pay me a buckload of money for sharing a fraction of my knowledge.
$16.99 $5 (₦3,500) for the next 3 hours!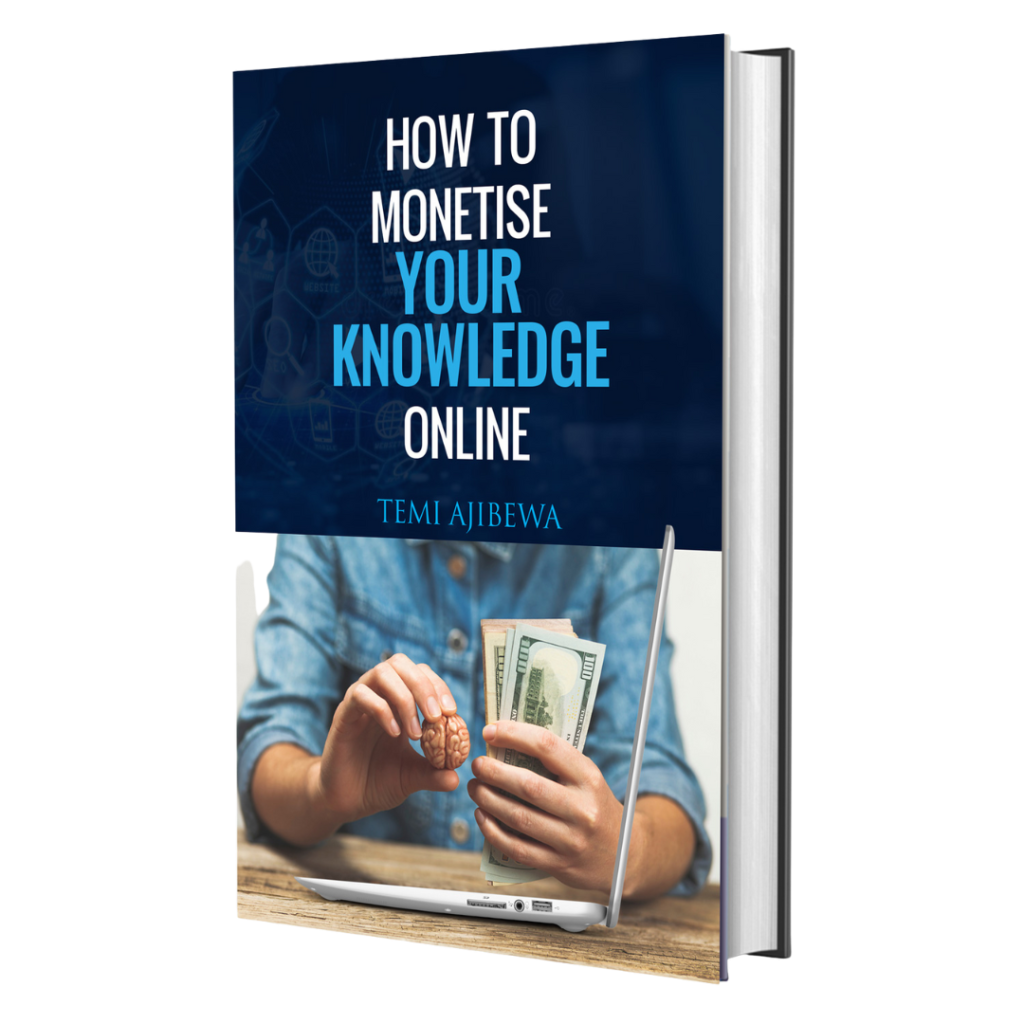 "By the end of my webinar, in about 2 hours, there was N1.4million sitting pretty in my account."
"Temi is all about action and results. She is quick to roll up her sleeves to help you get your desired outcome. She helped me set up my first webinar and by the end of my webinar, in about 2 hours, there was N1.4million sitting pretty in my account. Temi is a sales strategist; dishing out multiple pathways to executing your sales goal. With Temi, it's no fluffy talk, just pure hacks that lead to cash. By the time she is done with your business, you'd say I understated her capacity. She is electric. Period!"
You don't need a large social media following. You don't need to be a tech genius. Grab this book for $5, and I will show you how you can hit consistent 7 figures consistently selling your knowledge!
You've probably heard people talk about how they make tens and thousands of dollars selling their knowledge and you want to know "how" this is possible.
Well, I've got an answer for you. A simple answer. Just follow along and I will show you how.
Are you a thought leader, coach, or consultant looking to monetise your knowledge in a way that brings in cash for you even while you're on holiday? 
Are you a career professional who wants to teach others from your wealth of experience in your career and get paid for doing so?
Are you a content creator or creative looking for an extra source of income by sharing what you know? 
Are you a business owner who has mastered your craft and you know you can share what you've spent years and years learning? 
In this book, I'm going to show you how to package, present, and
sell your brain
in the most enticing way that people can't resist paying you for it!
What would you learn from this book?
Imagine getting paid for sharing your knowledge on topics you love… I mean, something you would have done for free ordinarily. In this book you will learn:
How to monetise your knowledge. 
When it comes to selling your knowledge online, trash those complicated scripts you've seen on Instagram. 
"Why?"
They don't work! Scripts are stereotyped and lose their value over time. Formulas can always be remodeled to sell over and over again.
This book will teach you what it takes to sell, and you'll realise that you don't need scripts but sales formulas that convert like crazy.
The exact type of knowledge you need to monetise. 
Only a few people know this and that's why there are a lot of people in the knowledge monetisation business that are still broke. 
With the knowledge of what to monetise, you will know what brings the money in.
And you can never go broke because the knowledge you sell will always be in high demand.
What it takes to start selling your knowledge. 
Have you been listening to people talk about mundane requirements to start selling your knowledge? 
You hear things like, "you need to be an expert", "you must have at least 5,000 followers on Instagram", "you must look extremely pretty", and the list goes on and on.
Well… That stops here because in this book I've broken down everything you need to start and they are super simple. 
In fact, after reading this book, your only thought will be "gosh! I wish I had gotten this book earlier!"
How to create your digital product if you don't have one already. 
You see, you might think creating and selling digital products is hard… wait till you get this book.
"My Fiance has been praying for you since I took the course because I have been on a different wave and I am super pumped."
"I started writing during the lockdown but hit a block. After taking your License To Print Money course, I felt your electric current pass through me Now, I have finished writing, did my book cover on Canva and finished on Adazing. My Fiance has been praying for you since I took the course because I have been on a different wave lenght and I am super pumped. He's not seen me this excited before. Thank you Temi. Thank you."
That's not all… You're getting 10X value for your $5! We've included some bonuses to make you grab this offer…
Yes! I'm giving you bonuses worth
 ₦490,000 for buying a
 ₦3,500 book that can potentially make you millions of naira in a few months.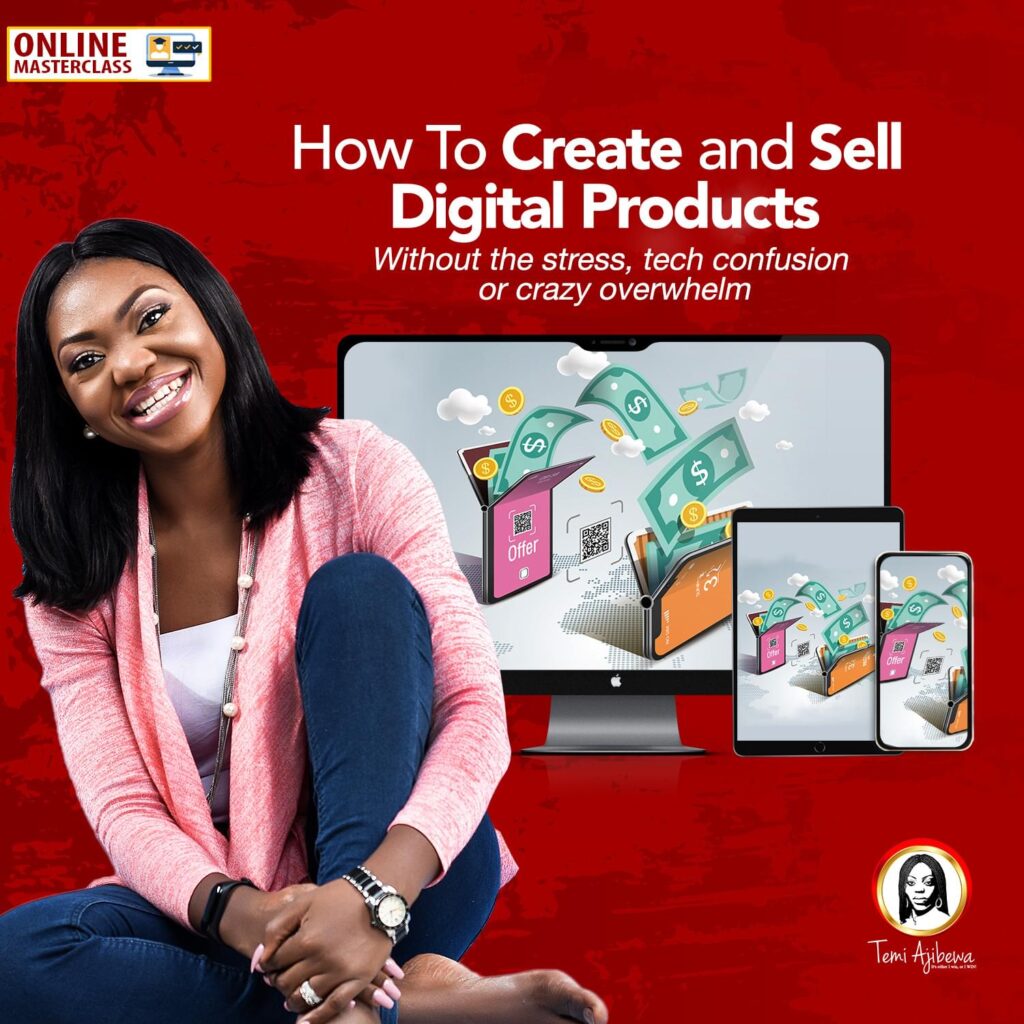 2-hour value-packed masterclass on how you can create and sell digital products without the stress, tech confusion, and crazy overwhelm, especially if you're new to the online space.
You'll be added to a WhatsApp group for support and answers to your questions with Coach Temi for one month.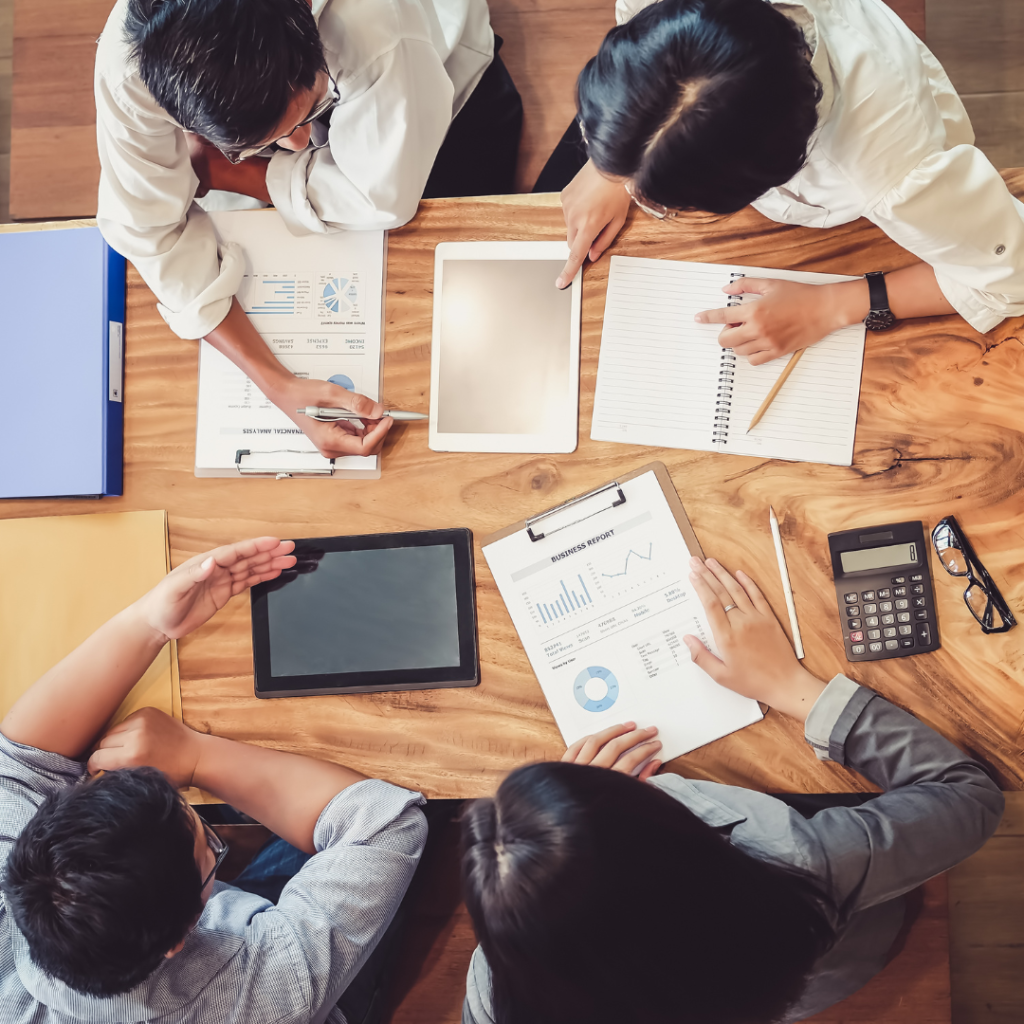 "MONETISE YOUR KNOWLEDGE" COACHING CALL - FREE
Get the opportunity to speak with one of our trained coaches and get a customised coaching for you to monetise your knowledge (strictly by qualification).
How to monetize your knowledge – Ebook
[Original Price: $16.99

Today: $5

]
Video workshop: How to create and sell digital products without stress, tech confusion, and crazy overwhelm. [Original Price: $47

Today: FREE

]
One Month Group Support for Q & A [Worth: $99

Today: FREE

]
"Monetise your knowledge" coaching call opportunity [Worth: $499

Today: FREE

]
This Deal Closes In The Next 24 Hours! Hurry!
"My book went on to become an Amazon Bestselling Book"
"Temi's step by step videos took out the guesswork. They made it easy for me to get started on Amazon. My book went on to become an Amazon Bestselling Book."
Meet The Author - The Electric Temi
Temi Ajibewa, popularly called The Electric Temi, is an award-winning and highly sought-after thought leader in the personal transformation and business niches in Nigeria.
She is a 2 time Amazon Bestselling author, Certified John Maxwell DISC Trainer, Results Coach, NLP Practitioner, Peak Performance Consultant, an Ericksonian Hypnosis Expert, a Neurological Repatterning Therapist, Results Technologies Advisor and a Firewalker at the Tony Robbins Unleash The Power Within Conference.
She is the founder of Temi Ajibewa Foundation, a social enterprise initiative empowering women and youth through mentoring, training and coaching with subsidiary brands like The Millionaire Housewife, a foremost edu-tech platform in Africa, designed to help women launch and grow successful businesses from home by leveraging on the internet, and The Transformers Mentoring Hub, a movement designed to transform young thought leaders through mentoring sessions that prepare them to contribute to Africa's greatness.
A Fellow at the Chartered Institute of Coaching and Mentoring in Nigeria, she holds a B.A in English Language from Lagos State University and LLB Law from the University of Lagos and lends her expertise as a management consultant to organizations who want to increase their productivity and brand effectiveness.
She has been featured on several media platforms as she shares on peak performance, self-mastery, business growth and wealth creation strategies.
Temi is a proud recipient awards such as: The Entrepreneur Of The Year 2018 by the Women On Fire Initiative, The Business Coach of the Year 2018 Award by the Entrepreneur Africa Awards and, The Coach of the Year 2019 Award by Crystals Professional Awards.
Temi is married to her archangel Tunde Ajibewa and they are blessed with children.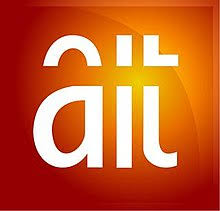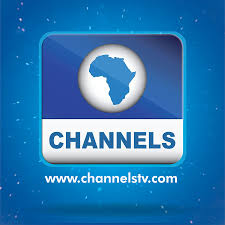 Can I make bank transfer?
Yes, click on any of the buy buttons above or below to see all our payment options with bank transfer inclusive.
Is there a money-back guarantee?
No. If you're looking for a get-out-of-jail-free card that requires no commitment from your end, this is not for you. Kindly go back to consuming free content on Youtube and Instagram (I have a ton of them just search for 'temiajibewa' on the internet.
When will I get the book after payment?
Immediately after we confirm your payment, we'll deliver the ebook to you via your email (please check your spam and promotions too).
This site is not a part of the Facebook website or Facebook Inc. Additionally, this site is NOT endorsed by Facebook in any way. FACEBOOK is a trademark of FACEBOOK, Inc.